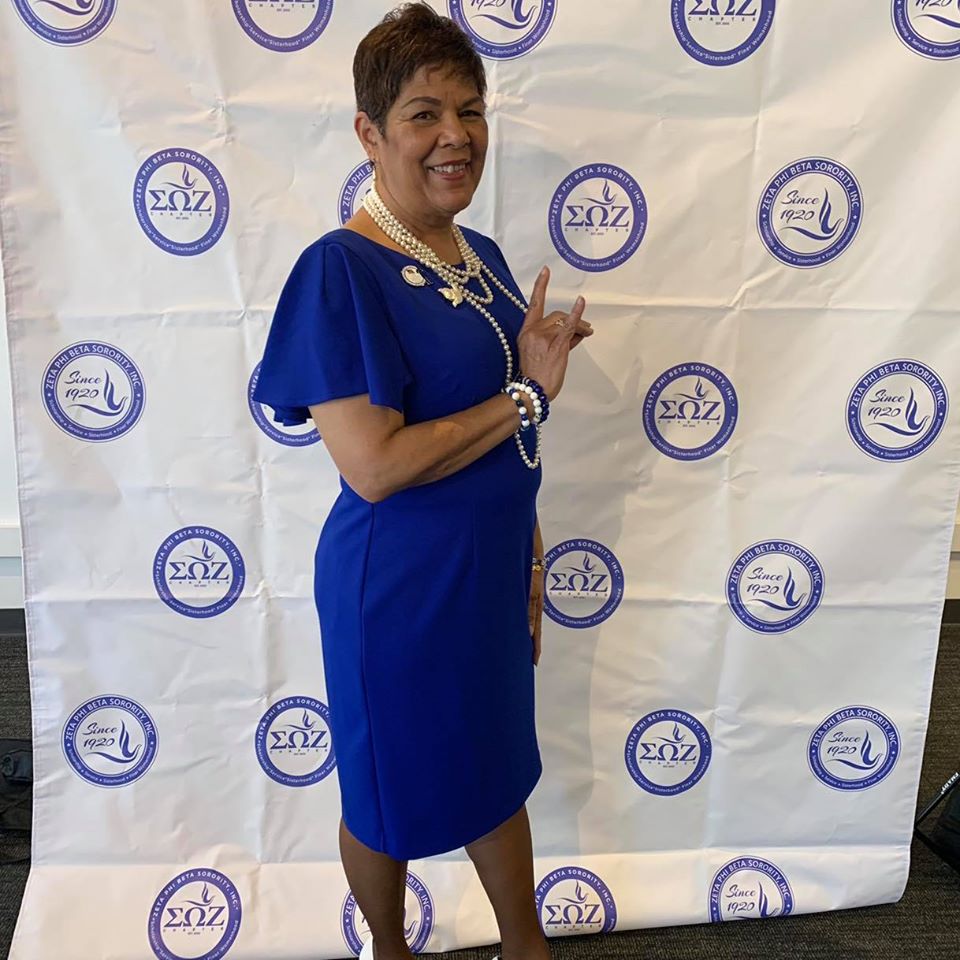 Today, we salute our stellar Soror Ernestine Carlisle. Soror Carlisle served in the United States Army from 1977-1980. Her stations included Fort Gordon, GA and Fort Richardson, AK.
Soror Carlisle, whose son is also an Army veteran, served as a supply specialist.  She has fond memories of the security and structure military service provided as well as meeting people from all over America.
She also has not so fond memories of the early morning awakenings and the physical training.
"I  hated running and still do," Soror Carlisle said.
Soror Carlisle, who pledged Mu Theta Zeta graduate chapter in Germany, says she believes the military and Zeta have important similarities – service and loyalty.
"Sometimes in the military, as well as in our blessed sorority, decisions are made that you may not agree with or understand," said Carlisle. "But, because you took the oath, you stay faithful to the pledge you swore to."
To young ladies considering military service she offers this advice:
"Research the different branches of the services. Look to those who have served short and long term. Have a plan of what/where you see yourself in the future. How will the military help you fulfill that path? What exactly is it that the you want to accomplish? How long do you want your commitment to the military to be! Do not be afraid. The military should be a stepping stone into the future if you are unsure what direction you want to go."
Military service did not come without sacrifice and challenges for Soror Carlisle. She endured racism and gender discrimination.
"I got to my first duty station with questions like: 'What are you? Are you black or white? Are you American? Where were you born? Where your parents from?' I learned to bite my tongue a lot", she said.
"At that time, women in the military were not looked at favorably. The climate was rapidly changing but some old heads (senior Non Commissioned Officers) still thought the army was not meant for women," Carlisle recalled.
Still the rewards, outweighed the obstacles and she when on the have a long career with military as a veteran and civilian.
"I was able to get a job with the Department of Army where I was able to still serve the military," she said. "I was able to travel overseas and state side. I was able to retire after 33 years. I was even able to deploy with soldiers to Iraq and support not out soldiers but military from other countries."
On a final note, Soror Carlisle offers this comparison:
"Our sorority helps us to bridge our differences and respect those differences as well. We learn that as women from all different backgrounds, we can come together to serve a greater purpose. We learn that lifting others, teaching, sisterhood and serving our communities is giving back something that is far greater than ourselves. In the military, we learn we are different but we support and defend each other and not only this nation but others. We learn camaraderie, and although we come from different backgrounds, we learn and grow from our daily interactions with each other."
Well-stated Soror Carlisle. We are blessed and honored to have you as a member of Zeta Phi Beta Sorority, Incorporated and the Sigma Omega Zeta chapter.  We appreciate your for your military service and your service to our sorority and the communities we serve.