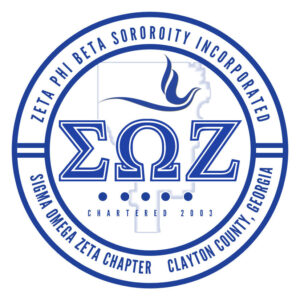 In the fall of 20
02, 15 women, some of whom connected via the burgeoning landscape of social media, met on the campus of Spelman College in a small boardroom 
to discuss starting a graduate chapter in the much needed and underserved Clayton County community. These women of various ages, educational backgrounds, and years of service in the Sorority were pa
ssionate about living and carrying on the guiding principles established by our triumphant founders. In the end, twelve of those women moved forward, diligently pursuing the establishment of metro Atlanta's next graduate chapter. On March 14, 2003, Sigma Omega Zeta was chartered at a ceremony held at the Zeta Phi Beta State of Georgia conference in Columbus, Georgia. Those charter members included:
| | | |
| --- | --- | --- |
| Brandi Blackmon | Denise Childers | Tatianna Matthews |
| Tiffany Caldwell | Cornecia Harper | Lisa Matthews |
| Sheri Cannon | Kathy Hayes | Natasha Reynolds |
| Jelena Cannon | Latasha James | Meshea Web |
Since then, we have grown from a group of 12 women to over 80 action-oriented, and community-conscious Sorors who are willing to help uplift the Clayton and Henry County Communities through our efforts with March of Dimes, partnerships within both  Clayton and Henry County to empower our youth, helping our elderly and seniors, and our collaborative efforts with other members of the NPHC-Clayton Henry, Inc. The majority of our chapter is full of women whose calling is to educate, uplift and advance the scholarly efforts of our young people. Today, we celebrate 20 years of service to Clayton and Henry counties but also our never-ending dedication to the education of our youth via our Power of the Word Scholarship. Our determination to making a difference in the present towards a bright future in Clayton and Henry Counties has been our mission, one that we aspired to achieve on that fall day, in that tiny boardroom, on the campus of Spelman College.  May the next years of our chapter be just as magnanimous as we flourish, excel and reach higher heights in service to Clayton and Henry Counties. May we forever continue to be finer.