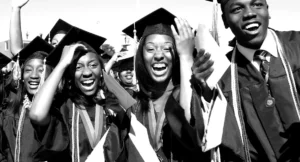 Scholarship is the cornerstone principle of Zeta Phi Beta Sorority, Incorporated. From our inception, scholarly achievement has defined what it is to be a Zeta woman. In our efforts to cultivate and highlight the achievements of young women in our community, Zeta Phi Beta Sorority Incorporated, Sigma Omega Zeta chapter has created the Sibongile B.N. Lynch Power of the Word Scholarship.
Started in 2010 by Soror Sibongile Lynch, The Power of the Word Scholarship assists young women with furthering their education and their pursuit toward becoming productive global citizens, allowing them to pour back into their communities. The scholarship is open to graduating female students who attend high schools in Clayton or Henry County. For more information, see the writable PDF application.
The Power of Word Scholarship application will be open from April 1, 2023 to May 1, 2023. NOTE: Please complete the application in its entirety, including mailing of transcripts and receipt of recommendations. You must have Adobe Acrobat Reader or Acrobat Pro to complete the application. We will not accept handwritten applications.
Send completed application via email to Trina Williams, Second Vice-President, Zeta Phi Beta Sorority, Incorporated- Sigma Omega Zeta chapter at [email protected]
You may mail your official transcripts to:
ATTN: Scholarship Committee
Zeta Phi Beta Sorority, Inc.- Sigma Omega Zeta Chapter
P.O. Box 454
Rex, GA 30273